updated 2019-06-07 - valid from 10/6 until until 24/6
consult this page less than 2 days before arrival to see if there are updates expecially on bus lines

my address: well ... I will not tell you.
... at least not now. Explaination: Most of the days, at the time I ask guests to arrive, I could be in one of three other places; these places are all within three minutes from my home, so in case I need to go there I may call the arriving guest and tell them either to meet in that place, or just when arriving at a place 500 meter from my home call me so I can go back home just in time.
To accomplish this of course the guest must have a working phone.
Unfortunately sometimes I have had guests that did something that annoyed me and the other guests: that is, they deliberately gave me a phone number of some other people, so when I called them to ask why they were late replied a person that could speak only chinese, some 90 yr old ladies, and so on (including in one case someone living 8 timezones east), or gave me a phone that effectively was their one, but had not active roaming on the day they arrive in Firenze or was out of credit, leaving me and other guests unable to know if wait or start cooking, or forcing me to go back home to wait for them at arranged time, leaving another job, and then waiting sometimes for more than 40 minutes.
In october 2014 this happened two days in a row, so I came to a decisone to give my address in two parts.
One, the most significant is described here, until point "X", at junction of via del Guarlone and Via della Loggetta: that one is a point very close to my home; the second part, the real address, that is less than 200 meters from that place, will be told you by phone calling sometime in the 24 hours before your arrival.
Please no excuses telling that someone stole your phone the day before. A phone complete with a sim can be got for less than 25 EUR !
So for now print the map (landscape and complete) and these istruction, and answer my call when I will give you the last indication. Times and location of bus stops are the ones in effect at date of update of this document unless differently specified.
Please check anyway to have my address when you are arriving ... sometime happen that for some reason is lost, so feel free to send me a sms asking to resend it ... but remember that using GPS batterie get depleted quickly, so make an hardcopy of the map.
Also I have to tell you that after 1900 the day of arrival I do not promise quick reply to email messages and SMS so communicate only with voice calls to the number that you will have received via email.
At end of this page there is also a section basic house rules so so when you arrive here you already know it ...

Please follow these instruction to come to my home, but avoid to ask people, since most of the times when people got lost or was very late had been because they asked someone (possibly mispronouncing the name of places) for indications and that people gave them contradictory informations.
Also DO NOT RELY on googlemaps, neither for suggestion nor for transit timetables and stop location: there are some errors that if you travel by car are tolerable, but if you go walking they may let you lose up to 40 minutes. Actually when you do a search to my area they clearly state that pedestrian itineraries may be wrong
Walking from city center is 30 to 50 minutes according the position you are.
I know that bus service is shitty, and I have advised you about it.
Arriving late due to a wrong map or a wrong information or because you got the wrong bus or the bus was late is NEVER an acceptable excuse.
in short: I recommend to walk or, if really lazy, use the train.
In case of doubt tell me the place of origin and time of departure and I will send you detailed instructions.

Sometimes thate are temporary changes on bus courses. Better you consult this document a few hours before arrival to see if there are updates. Has not been Has not been infrequent that people looked at bus lines on googlemaps and so got the bus in the wrong direction.
From SMN station:
Train at 605 624X⚒ 718✝ 815X⚒ 922 1022 1118⚒ 1130AⒶ 1222 1322 1422Ⓐ 1430XⒸ 1522 1622 1735X⚒(mon-sat) 1822Ⓒ(Sat-Sun only) **1835XⒶ 1922 **1955X⚒ 2022 2122⚒ 2130✝ 2208Ⓑ(xSa) 2318 from SMN direction arezzo[chiusi], get off at the 2nd stop Firenze Rovezzano after 9 minutes. train marked with ** require change at Firenze Campo di marte When at Rovezzano> exit via the underpass from side of track 4, at the exit of stairs manage to get on the road parallel to the railway [the direct path is currently [19/4/2019] closed due works, quickest way is climbing the wall or jumping the fence); when on the road go west (you should have the bicicle lane on the other side of the road, on your right). At first crossing turn right into via della Loggetta and follow same indication as for bus. In case on monday to friday you miss for one minute or two the train at 2022 rush to the other side of station to catch the train 23461 direction Pisa at 2028, get off at Rifredi at 2033 and there get train 11809 at 2040 direction montevarchi to get off at rovezzano at 2052 (quicker this circuitous route than getting the direct bus)
Bus (option 1): exit from the exit on side of track 16, cross the road and more or less in front of Burgerking you will find the stop "Stazione-Adua" where there are lines 1A 1B 6A 6B 11 14A and 14B .
Get the first bus that passes. If it is 14A or 14B it is the right one, remain on it until 'Aretina-Varlungo', els if it is 1A, 1B, 6A, 6B, 11 remain until piazza san Marco (see here) where you can wait either 14A/14B or 20, also call me immediately that is possible that I decide that, if you are on the 6, be better you remain in that bus and I will come to pick you at a stop I will tell you in real time.
Bus (option 2): exit from the station by the exit from platform 17 (if you do not locate it immediately it, go for option 1 only), turn about 10 meters on the right where you will find a stop for line 20. Get it and remain on it until Comparetti. please be careful that at this stop there is no ticket sale, that you have to buy inside rail station
(see here)
in any case bus ticket must be bought at a newstand inside rail station (or at vending machine near window 8 in the main ticket hall. In case of option1 and 2a there are vending machines at T1 stop adjacent.)
From bus terminals:
Bus for regional services [except services from Prato, Pistoia, Lucca, Pisa and Palazzuolo] and Eurolines [but not all services] call at main bus station in via santa Caterina (the other ones anyway have their terminals close to SMN railway station). Exit from there from main entrance, turn left, enter in SMN rail station and follow indications as for arriving by train (at T1 terminal where you cross via Alamanni there is a ticket vending machine, get ticket there).
If you arrive from a bus from Mugello get off at piazza Libertà then get bus 20 from via Fra Bartolomeo; with buses from Pontassieve get off at Varlungo (or via dalla chiesa, according the lines) then walk directly here. Buses from Pisa call just outside train station, follow the instruction for railway station SMN.
Some long distance buses call in piazzale Montelungo. From there the easier way is using the bus option 2, getting directly there bus 20, that however runs only until 2140, else you can get the ramp to enter inside the rail station to get a train if it is the right time.
Warning: Flixbus sell as "Firenze villa Costanza" or just "Firenze" a stop that is not in Firenze, while the one in the city center is called Firenze piazzale Montelungo. Check it before booking at which stop it would drop you if you arrive in late afternoon
In case it is one of those dropping at Villa Costanza you
must get T1 from there to Alamanni-stazione (every 6 minutes, travel time 23 minutes), if connecting to train or to Valfonda if connectiong to bus option 1

From the city center
if you are on the west part go to SMN station, if north or in the middle go to piazza san Marco, if on eastern part better going to viale Giovine Italia):
From Piazza San Marco, side opposite to the church, stop "Piazza di San Marco") get bus 14B (direction Rocca Tedalda) or 14A (direction Girone) until the bus stop Aretina-Varlungo (about 18 minutes trip). Bus 14A/14B runs until around 1AM and between 19 and 20 is every 10 minutes.
Warning1: It must be 14B-Rocca Tedalda or 14A-Girone; 14 goes in the opposite direction !
warning2: Aretina-Varlungo is the stop after Aretina3-Monzani and Casaccia: these three stops are extremely close, so often there is not the time for the announcement for the second or the third one if bus call at all the three (past Aretina03-Monzani after the roundabout wait 90 meters, if the bus has not made Casaccia, ask for the stop at that point).
After getting off at Aretina-Varlungo cross the road on the pedestrian crossing and in front of you should see a pedestrian underpass going under the railway, get it and at northern exit turn right and follow the road, after the light at crossing cross the road on pedestrian crossing then turn right (in this moment you should be on the bicyclelane on left of the road) until first crossing, where you turn left into via della Loggetta, walk to the end where there is a shrine and a big cypress. That one is point X marked on the map. the other minute necessary to arrive at my home will be told by phone.

Bus 20-Comparetti from the same stop in piazza san Marco (see note above)(side opposite to the church, stop "Piazza di San Marco"), until terminal COMPARETTI (travel time 19 min) [last one at 2146, later there is 20L that does not come here], when you arrive at Comparetti terminal turn left (red line) into via della Chimera, along the bicycle lane, for about 80 m then turn left in via della Loggetta, as said before for line 14 from station.
From the eastern part of center (near piazza santa croce)
get bus 14A/14B from viale Giovine Italia just north of via Ghibellina
From Rifredi railway station
if you arrive from Pisa, Lucca, Prato, Siena change here, if you arrive in the 25 minutes before these trains, else continue to SMN

Train at 1640Ⓐ 1840Ⓐ or 2040Ⓐ (these on monday to friday only ) direction Montevarchi or 1955⚒ (this one monday to saturday, but not 27/7 to 26/8) direction Arezzo, Rovezzano is the third stop (travel time about 12 min)

bus 20 to "Comparetti" walk NE to via Reginado Giouliani, stop immediately on your right, until "Comparetti" (travel time about 39 min, tickets at newstand just at the exit from underpass).
From Campo Marte railway Station
trains at 1741X⚒ 1828Ⓒ 1851Ⓐ 1928 2009X⚒ 2028 2051Ⓐ 2128⚒ 2136 ✝ 2214Ⓑ 2324 until next stop Rovezzano (about 2 minutes. be ready!)
bus 20 to "Comparetti" at bus stop "gennarelli". from the tracks get the pedestrian overpass, turning left (north) until the first stair going down on the right side, at bottom of that stair, 7 meters on the right, there is bus stop "gennarelli". from there is about 6 minutes by bus to "comparetti".
From piazzale Michelangelo
get bus 12 until "Amendola", it is the first stop after crossing the river. then walk further about 20 meters until via Arnolfo, turn right on the same sidewalk and after 80 meters there is bus stop "arnolfo" where you may get bus 14A or 14B (about 10 minutes by bus to aretina-varlungo)
WARNING
bus ticket must be bought at newsstand or tobacconist, get more ticket, also for the next day, a ticket costs 1.50€ and is valid for 90 minutes both on bus and trains, there is no day pass. There are also vending machine at piazza san marco near the bus stop of 14A/14B/20, and in via Alamanni, piazza Adua, viale Strozzi, at T1 stop.
You may buy tickets that are valid on ATAF (city buses) and TI (regional trains) also on www.nugo.com. HOWEVER USE THIS ONLY AS A LAST RESOURCE, since tickets bought on line, althought they cost the same that the paper ones, are valid only on bus OR on train (you cannot make a mixed trip, while with paper ones you may use any kind of service within the city, with unlimited transfers within the 90 minutes from validation)
If you have just arrived by a regional train, ticket to Firenze is still valid for a train (NO bus) passage until Rovezzano, so no need to hurry for a new ticket - this is a reason why I ask you to know which train you will get [to tell you whether last leg is included or not]).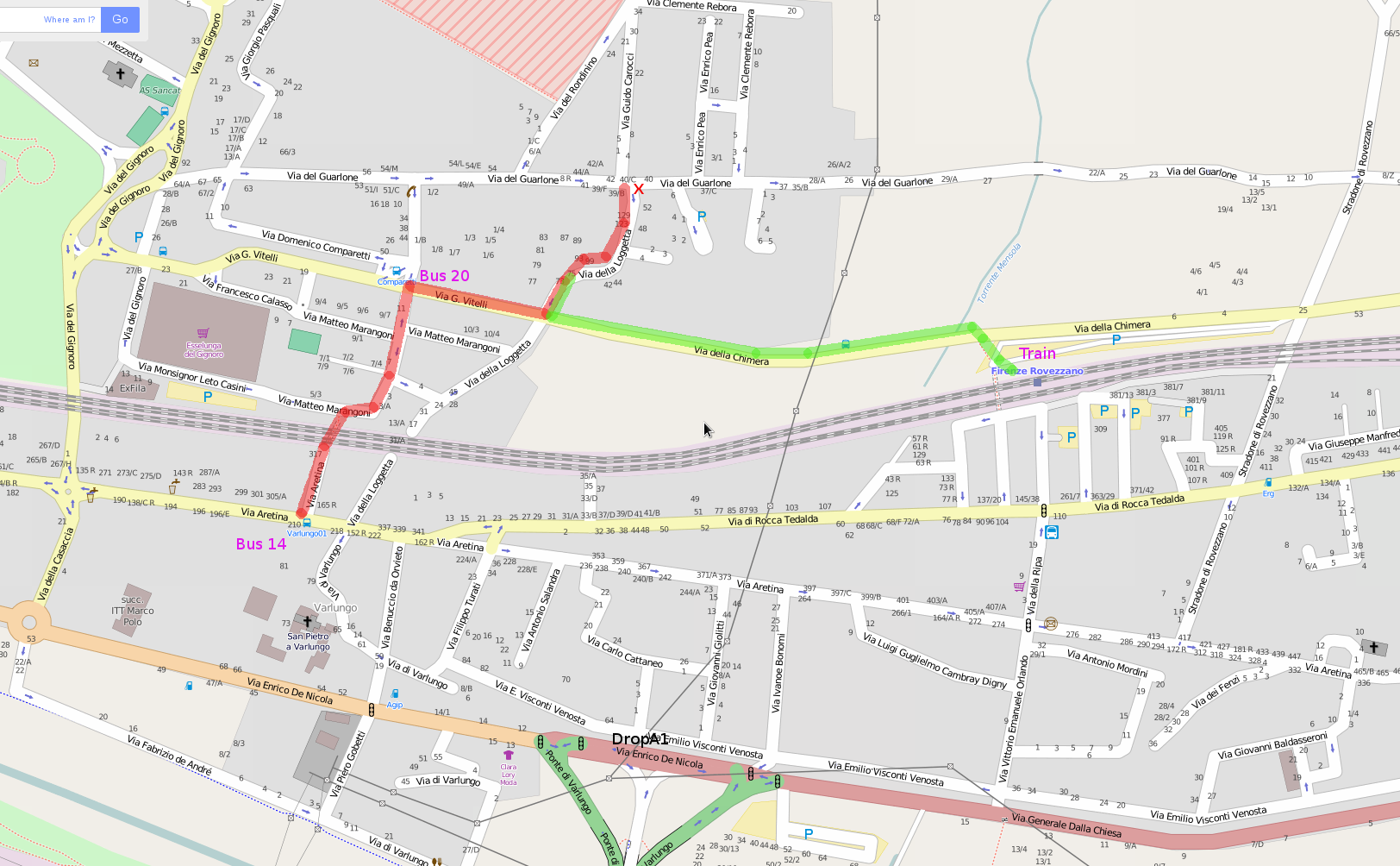 the house rules
These are some house rules, that guests should follow, to avoid inconveniences. I try to put here in order of appearance:

Doorbell: there is my name on the doorbell, ring it and wait 40 seconds for an answer. In case you do not get a reply it is possible I be out for a few minutes, in that case go to the benches that are in the middle of the park in front of the house and call me on the phone, so I can immediately come to meet you. Never wait, expecially if with luggages, in front of the door, nor enter if someone else open the main door. (please do not call me asking "what is the apartment number?" since that nubere is not on the doorbell, just the name, here !
Shoes: there is no shoe code in the house, so you can choose to keep or remove shoes. Howewer there is a standard consuetude that if you get off the shoes you will store it in the balcony outside your room. So if you are used to take off shoes wait to do it until I have introduced to your room.
Wifi: there is wifi in the house. The instruction to use it are in a sheet hung in each room.
Fridge and laundry: Space in the fridge is limited. In case you have something to put in the fridge please "book" the space telling exactly what you need to put and its size. tell this not last minute but when you send the confirmation SMS. The same terms apply in case you need to make laundry (in this latter case, in case you need a full load a contribute is welcome).
Do not forget that food in the fridge and towels driyng are the most common left items.
After eating: After dinner please DO NOT take dirty plates, glasses and cutlery out of the table unless I explicitly tell you to do it; since these items have to be stacked in a certain way in the dishwasher better that only I do it, if you did it in the wrong way it is three times work for me.
Shower and bathroom: no shower between 0700 and 1200, so if you are a morning showerer try to adjust to this rule.
Printer and Computer: The printer for computer not always is properly working, so please do not assume that is always available. If you really need to print something (max 2 pages per guest) better send me the pdf file at least 48 hours before the time you need it so I can find a way to print it. In the living room there is a small computer that is available on request to guests.
Leaving: greeting is usually welcome but please if you leave early before I have got up, do not knock my door to say goodbie!
Gifts: if you are the guests that likes to give a gift to you host please avoid to take: valuable items (it is against the free hospitality); perisheable ones (nothing with a residual shelf life less than 6 months); things that you have bought locally (if I wanted it I woud have already bought); bulk items (if I occupy the space with bulk items, would remain less space for my guests);

Wine: in some places it is a common custom to take a bottle of wine for dinner. Please avoid to do this at my home: Every meal has a specific kind of drink to pair. Who cooks chooses also the drink, so 96% of cases the bottle carried is just stored away as a nornal gift. Also you neve know the day when you arrive how many people will be for dinner !