(updated 2023-09-15)
WARN: There are/will be some changes (in term of lines and stops) between february 2021, and december 2024, when line 20, 14 and 17 will have many adjustments. Since 8 february 2021 bus 20 has a temporary terminal at via Calasso, corner via Vitelli, in front of the supermarket, about 260 meters west from the point marked in the map, so in this moment the closest bus FROM city center are either ARETINA-VARLUNGO for 14A/14B or GIGNORO for 20 (both 810 m far).
I have not adjusted the map since moves of stops is too much frequent, and I am waiting that two new pedestrian roads be opened and the bus stop will be in final position.
The map on openstreetmap is however usually correct and up to date.
consult this page less than 2 days before arrival to see if there are further updates, expecially for bus lines



Follow these instruction to come to my home, but try to avoid to ask people, since most of the times when people got lost or was very late had been because they asked someone (possibly mispronouncing the name of places) for indications and that people gave them contradictory informations.
Also DO NOT RELY on googlemaps, neither for suggestion nor for transit timetables and stop location: there are some errors that if you travel by car or bicycle are tolerable, but if you go walking or by bus they may let you lose up to 20 minutes.
Walking from city center is 30 to 50 minutes according the position you are.
I know that bus service is shitty, and I have advised you about it.
Arriving late due to a wrong map or a wrong information or because you got the wrong bus or the bus was late (for whatever reason) or you did not managed to buy a ticket, even if it was due to an operator fault, is NEVER an acceptable excuse to be late for dinner.
in short: I recommend to walk or, if really lazy, use the train.
In case of doubt tell me the place of origin and time of departure and I will send you detailed instructions.

(the timetables mentioned here are the ones valid from 15 september 2023 to 7 december 2023)
in descriptions I will talk about 3** line: it is a shortform for regional valdisieve lines 322 330 343 345bis 353 357 360 SI90 that between piazzale montelungo and le falle share the same itinerary and stops.
From SMN station:
Trains at 600 624⚒ 718✝ 815⚒ 922 1022 1118⚒ 1130Ⓐ 1222 1322 1422✝ 1430⚒ 1522 1622 1720✝ 1735⚒(mon-sat) 1822Ⓒ(Sat-Sun only) 1922 2022 2122 2208Ⓑ(xSa) 2318 from SMN direction Arezzo[Chiusi], get off at the 2nd stop Firenze Rovezzano after 9 minutes.
Important warning: for the trip if you have just arrived in Firenze with a regional train the passage is included in the fare; if you arrived with a long distance train you need a separate ticket.
When at Rovezzano exit via the underpass from side of track 4, at the exit of stairs manage to get on the road parallel to the railway; when on the road go west (you should have the bicycle lane on the other side of the road, on your right). At first crossing turn right into via della Loggetta and follow same indication as for bus.
Bus (option 1): exit from the exit on side of track 16, cross the road and more or less in front of Burgerking you will find the stop "Stazione-Adua" where there are lines 6A 6B 11 14A and 14B .
Get the first bus that passes. If it is 14A or 14B it is the right one, remain on it until 'Aretina-Varlungo', else if it is 6A or 6B call me immediately that is possible that I decide that, if you are on the 6 , better you remain in that bus and I will come to pick you at stop rondinella-martini (that anyway walking is just 5 minutes more than the one of 20 and overall the same time).
Bus (option 2): exit from the station by the exit from platform 17 (if you do not locate it immediately it, go for option 1 only), turn right and after about 10 meters you will find a stop for line 20. Get it and remain on it until Gignoro (be careful: there is Manni-Gignoro and Gignoro that is the next one. On the map the itinerary is marked from old stop Comparetti, that is valid to go to the center, but currently the faster way on arrival is getting out the bus at Gignoro, cross the road and follow via del Guarlone walking).

Bus (option 2a)
same, scattered along the piazzale montelungo there are bus stop for suburban lines 322 330 343 345bis 353 357 360 SI90. There lines works mostly on peak time (very few service off peak, after 2030 and on saturday afternoon/holydays) but are faster than city buses (use the same ticket that for city buses) and would leave you at Varlungo (that correspond to the stop aretina-denicola of line 14, about 140 m before Aretina-Varlungo and the pedestrian underpass)(on the other direction the stop Aretina-Gignoro is the same both for city and suburban buses)
Bus (option 2b-use only after 2000): exit from the station by the exit from platform 17 (if you do not locate it immediately, go for option 1 only), cross the road and walk about 120 meters counterclockwise around the fortress, to find Stop "Beslan-Fortezza" where you can get 20 and 3**.
bus ticket must be bought at a tobacconist inside rail station (or at vending machine on one of tram stops on either side of the station).

From bus terminals:
Buses From Siena and Grosseto call at main bus station in via santa Caterina. Exit from there from main entrance, turn left, enter in SMN rail station and follow indications as for arriving by train (at T1 terminal where you cross via Alamanni there is a ticket vending machine, get ticket there).
If you arrive from a bus from Mugello get off at piazza Libertà then get bus 20 from via Fra Bartolomeo; with buses from Bibbiena/Pontassieve get off at Varlungo (or via De Nicola, according the lines) then walk directly here.
Some long distance buses (especially late in the evening) and many regional buses from north call in piazzale Montelungo. From there the easier way is using the bus option 2a, getting directly there bus 20 or 3**, else you can get the ramp to enter inside the rail station to get a train if it is the right time or use option 1.
Certain long distance buses from Pisa and Bologna an regional ones from prato/Montecatini/lucca call near the airport at GuidoniT2, from there get tram T2 until Alamanni, then follow indications as from SMN rail station).
Most of the long distance buses anyway call at "Villa Costanza", that althought sold as Firenze is not in Firenze, from there you must get tram T1 to Alamanni-Stazione (every 6 minutes, travel time 23 minutes), if connecting to train or to Valfonda to get bus 14 or to Fortezza to get bus 20 but overall is a 15 km trip that even if costing just 1.70EUR takes more than one hour.
Buses from SW of Firenze call at piazzale Vittorio Veneto, in that case get T1 direction Ospedale and follow same instructions as from villa Costanza.
From the city center
if you are on the west part go to SMN station, if north or in the middle go to piazza san Marco, if on eastern part better going to viale Giovine Italia):
From Piazza San Marco, side opposite to the church, stop "Piazza di San Marco") get bus 14B (direction Rocca Tedalda) or 14A (direction Girone) until the bus stop Aretina-Varlungo (about 18 minutes trip). Bus 14A runs until around 00:30, but after 20:00 runs only 14A so the frequency is low.
Warning1: It must be 14B-Rocca Tedalda or 14A-Girone; 14 goes in the opposite direction !
warning2: Aretina-Varlungo is the stop after Aretina3-Monzani and Aretina-DeNicola: these three stops are extremely close, so often there is not the time for the announcement for the second or the third one if bus call at all the three (hint: past Aretina03-Monzani after the roundabout wait 90 meters, if the bus has not made Aretina-DeNicola, ask for the stop at that point).
After getting off at Aretina-Varlungo cross the road on the pedestrian crossing and in front of you should see a pedestrian underpass going under the railway, get it and at northern exit turn right and follow the road, after the light at crossing cross the road on pedestrian crossing then turn right (in this moment you should be on the bicycle lane on left of the road) until first crossing, where you turn left into via della Loggetta, walk to the end where there is a shrine and a big cypress. That one is point X marked on the map. From there to my home is another minute.

From the eastern part of center (near piazza santa croce)
get bus 14A/14B or 3** from viale Giovine Italia just north of via Ghibellina
From Airport
Outside Airport get tram T2 until Alamanni-Stazione (about 21 minutes), then follow indication as from SMN rail station
From Rifredi railway station
if you arrive from Pisa, Lucca, Prato, Siena change here, if you arrive in the 25 minutes before these trains, else continue to SMN

Train at 1640Ⓐ 1722Ⓐ** 1841Ⓐ or 2041Ⓐ (these on monday to friday only ) direction Montevarchi or 1941⚒ (this one monday to saturday except august) direction Arezzo, Rovezzano is the third stop (travel time about 12 min)

bus 20 direction "Calasso", from exit on east side (track 1) walk just 30 meter on the right you get the stop, remain on the bus until "Calasso" (travel time about 39 min, tickets at newstand just at the exit from underpass) or at vending machine at same place.
From Campo Marte railway Station
trains [afternoon] at 1741X⚒ 1828Ⓒ 1852Ⓐ 1928 1952⚒ 2028 2052Ⓐ 2128 2214Ⓑ 2324 until next stop Rovezzano (less than 2 minutes. be ready and stay close to the door, exit on left!)
bus 20 direction "Calasso" at bus stop "gennarelli". from the tracks get the pedestrian overpass, turning left (north) until the first stair going down on the right side, at bottom of that stair, 7 meters on the right, there is bus stop "gennarelli". from there it is about 6 minutes by bus to "gignoro". Bus ticket at vending machine inside ticket hall (just locate the one for bus tickets, that are all identical)
From piazzale Michelangelo
get bus 12 until "Amendola", it is the first stop after crossing the river. then walk further about 20 meters until via Arnolfo, turn right on the same sidewalk and after 80 meters there is bus stop "arnolfo" where you may get bus 14A or 14B or 3** (about 10 minutes by bus to aretina-varlungo). In case you have to wait more than 15 minutes (bus 12 has a 20' headway) better you walk directly to via Arnolfo
WARNING
bus ticket must be bought at newsstand or tobacconist, get more tickets, also for the next day, a ticket costs 1.70€ and is valid for 90 minutes both on bus and trains, but there is not any convenient day pass. There are also vending machine at T1 stops.
If you have just arrived by a regional train, ticket to Firenze is still valid for a train (NO bus) passage until Rovezzano, so no need to hurry for a new ticket - this is a reason why I ask you to know which train you will get [to tell you whether last leg is included or not]).
when doing your plans consider that on sunday and public holydays the first bus (14) leaves at 0535 while on weekdays at 0514 and on saturday at 0522. Take this in account when you have to get a bus/train/plane early in the morning.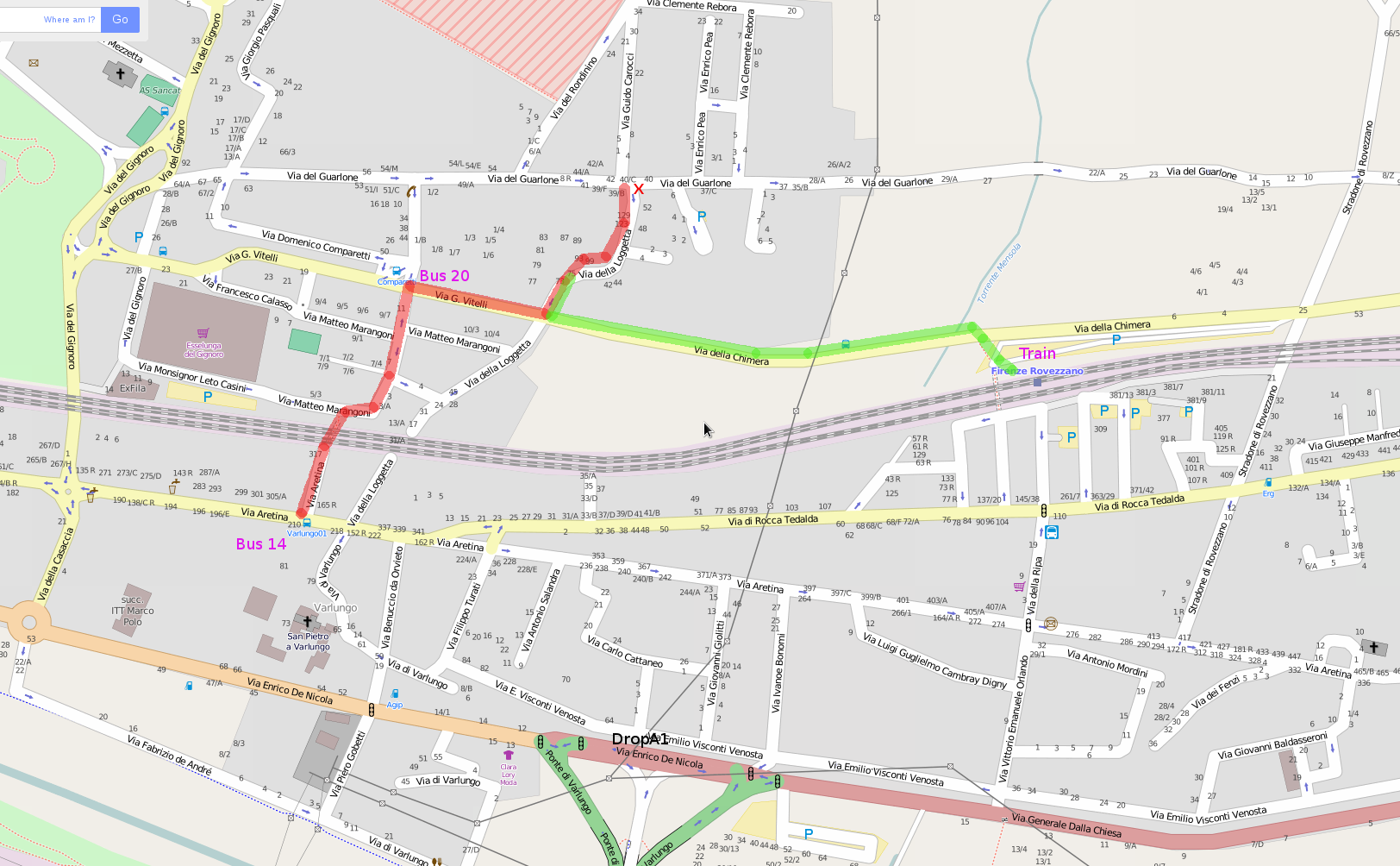 The map is not updated, since important change is expected between 2021 and 2024, you will receive an updated one with current bus stops when you call me three days before your arrival.